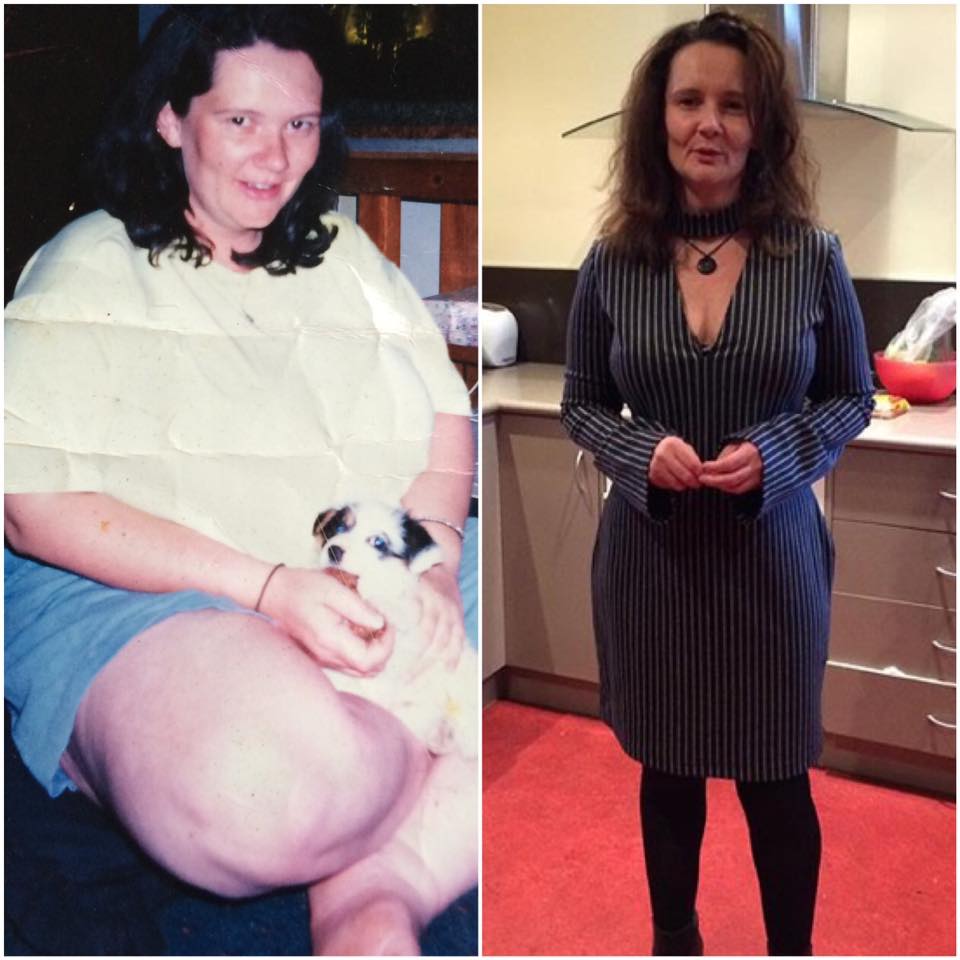 Brent Durran came into my life when I was extremely overweight and unfit. He not only pushed me every week to be the best i could be, he was so easy to talk to which some weeks was more important than the training.
Through all my injuries Brent was well trained and taught me I can still do things just differently. Even though I don't see Brent as often he is still the voice that sits on my shoulder saying 'really Julie are u sure'. My life would not be the same if I hadn't taken that first step and just sent him a text asking for help.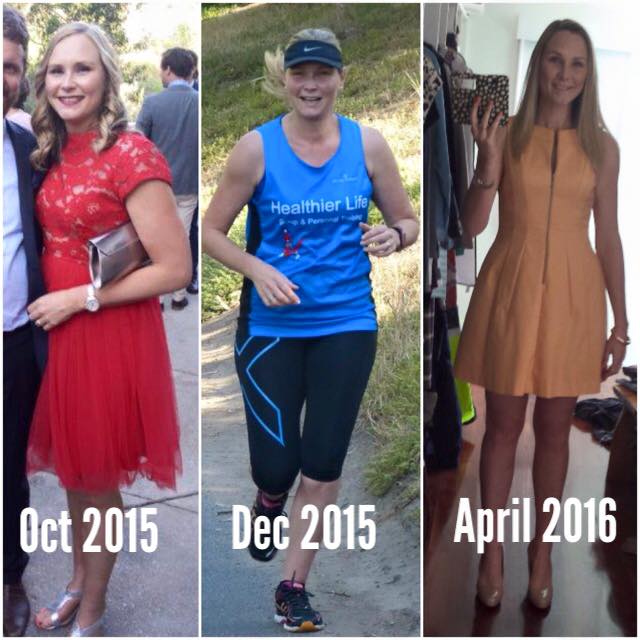 I started with the Healthier Life group 12 months ago (June 2015) after completing my first half marathon at the GOR. I wanted to keep up my fitness to be able to participate in the team event for the Surf Coast Century. I noticed a difference in my fitness level immediately and enjoyed the early morning running group – even in winter! Unfortunately I didn't get to run in the Surf Coast Century because in August I was diagnosed with Palindromic Rheumatism after waking up one morning to find my whole body in a major arthritic flare and not being able to walk.
After a few weeks off running and medication to help me, I was able to go back to group training with Brent and he helped me ease back into it. The fact that I was fit before the illness helped me recover quickly. I then set my sights on running a marathon – this was something I wanted to do prior to getting ill and I wanted to see if I could still do it. I followed Brent's Marathon training program and joined the MJ program to see if I could lose a couple of kilos before the marathon and I ended up losing 7.5 kilos. I noticed a big difference in running when I lost the weight, it was a lot easier on my joints and I got quicker.
Brent's support, along with the other participants from the Healthier Life Group made it an easy program to follow. The program was easy to fit into my families lifestyle. 2 weeks before the marathon I had a couple of minor arthritic flares and was not confident at all that I could run on the day. I had missed a couple of long runs and my morale was down. Brent called me and gave me his opinion/advice on where I had come from, what I had achieved and that he had every confidence in me that I could make it. After that phone call with Brent believing in me I knew I could do it, and on 15th May 2016 I RAN A MARATHON! 45kms actually. It was an amazing feeling crossing the finish line and an achievement that I will never forget. The early morning training sessions and long runs on a weekend were well worth it! I could not have achieved what I did with all I had been through without Brent's support and guidance along the way.
Thank you Brent!! I look forward to my sessions with the group, everyone is extremely friendly and as a bonus I have met new people that have become great friends along the way.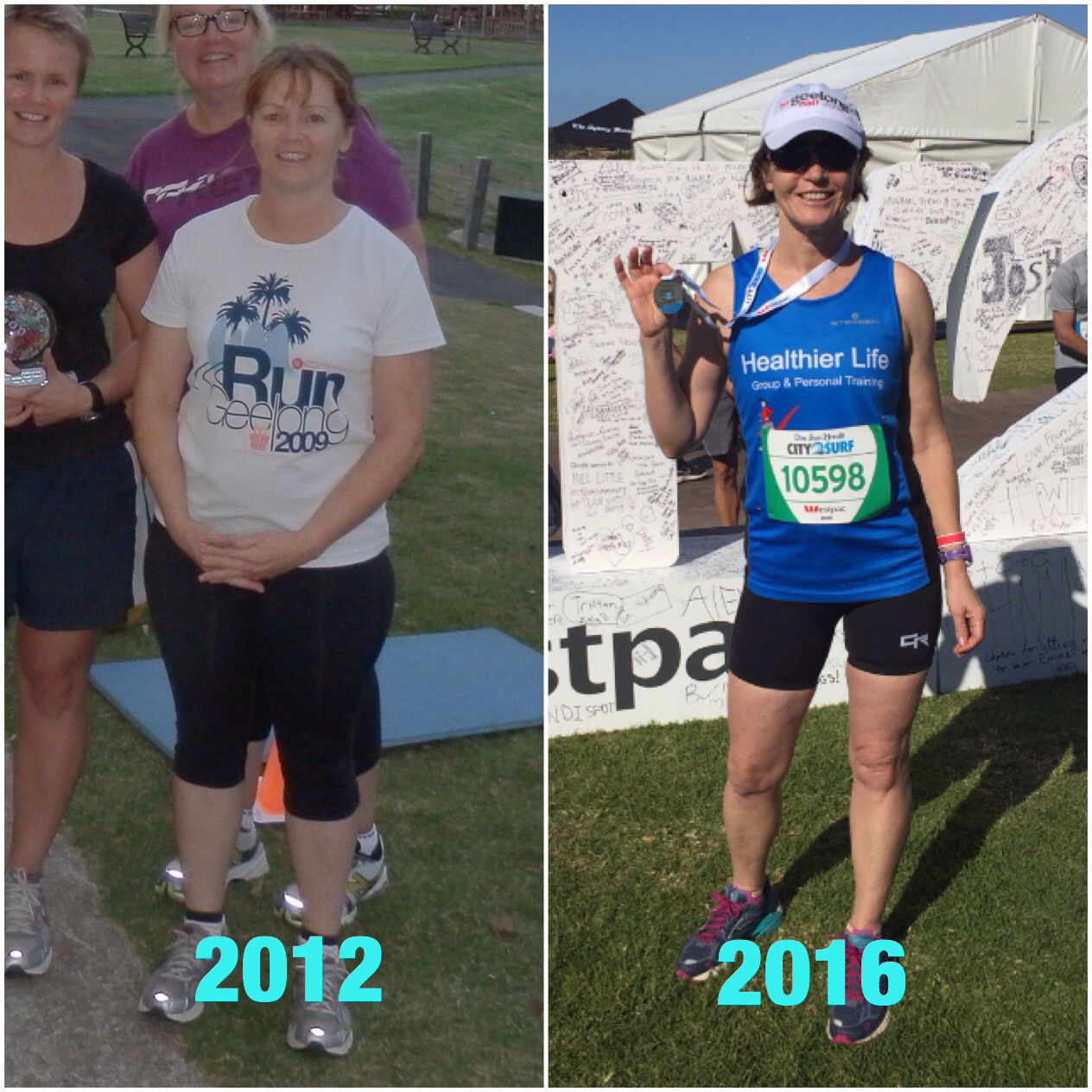 What an AMAZING transformation from Julie Whelan in these two photos. The photo on left was from 2012 not long before She started at Healthier Life Group and Personal Training. The funny thing was Julie thought she was reasonably fit back then in 2012. The photo of Julie on the right was from the 2016 City to Surf when she was in the middle of her Melbourne marathon training program and probably the fittest and lightest she has ever been. Over time Julie has lost up to 15 kgs with help from the Healthier Life MJ eating program.
"Thanks Brent for helping me achieve goals I never thought I could do including 6 half marathons, the 2016 Melbourne Marathon and recently two Triathlons. Also numerous PBs at several different distances along the way.
I think more than anything- apart from losing weight and increasing my fitness I've enjoyed the long lasting friendships at Healthier Life!"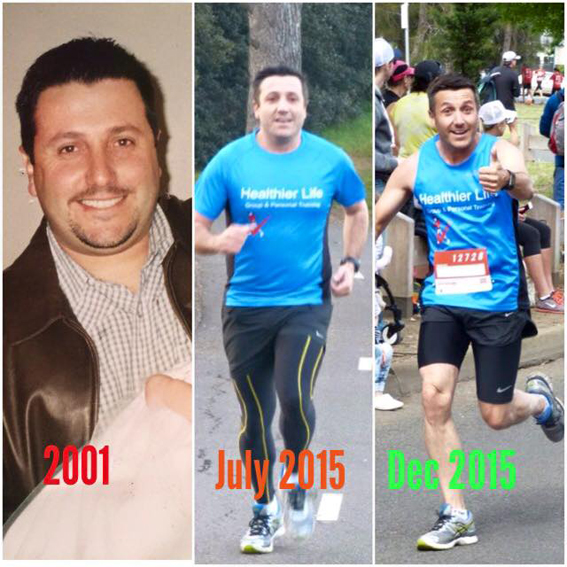 "I feel the best I ever have with more energy and am not craving the bad foods like I used to. I am absolutely over the moon with the results I have achieved and I thank you for that Brent Durran as I went from a size 34 in jeans to a size 29 -30 (CRAZY!). I suppose a personal trainer could just get into the groove of taking the payment and just pump out the same thing day in day out but you are a little different in the way that you care about your clients results. You know where everyone is fitness wise and where their frustrations with reaching their fitness goals. Accountability is huge thing and I was kept accountable all the way by you through my fitness journey last year. Now that I have this important tool and I can revert back to it at any time in the future. Can't wait to reach my NEW fitness goal with you in 2016!! Thanks again Arthur" – Arthur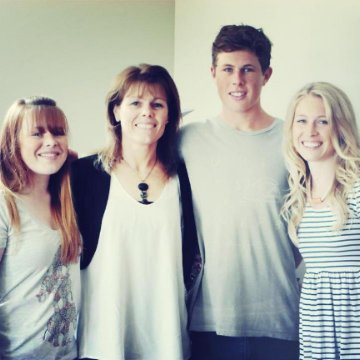 "After encouragement from my eldest daughter I joined her in the Healthier Life Group training sessions at the start of Sept 2012. It has proven to be one of the best things I have done for myself in quite a long time. Brent's group training caters for all ages and fitness levels in a very unique way in which the whole group stays together as one throughout the session, but with each individual working to their greatest capacity. I was made to feel very welcome and comfortable from the first training and now look forward to my twice weekly doses of exercise, as well as the free social run on Sunday mornings.
Brent has an amazing way of encouraging and challenging us as we train. He is more than a trainer doing his job…he is genuinely interested and committed to each individual…helping us to set and achieve goals…he really does go above and beyond. He is not only a trainer but a friend to us all!
In the past five months I have achieved more than I ever imagined…I now regularly run 10kms on a weekly basis…something which I never thought I would be doing! Brent instills self belief and self confidence which spills over into all facets of life. With Brent's motivation, we work hard in our sessions and because of this, and his dedication, anything is possible. With his help and guidance I am aiming to complete the half marathon in 2013.
I cannot thank Brent enough for making me feel 'alive' again…believing in one's self is so uplifting… I look forward to a happier and healthier future and a long association with Brent's Healthier Life Training Group." – Kim Van't Hag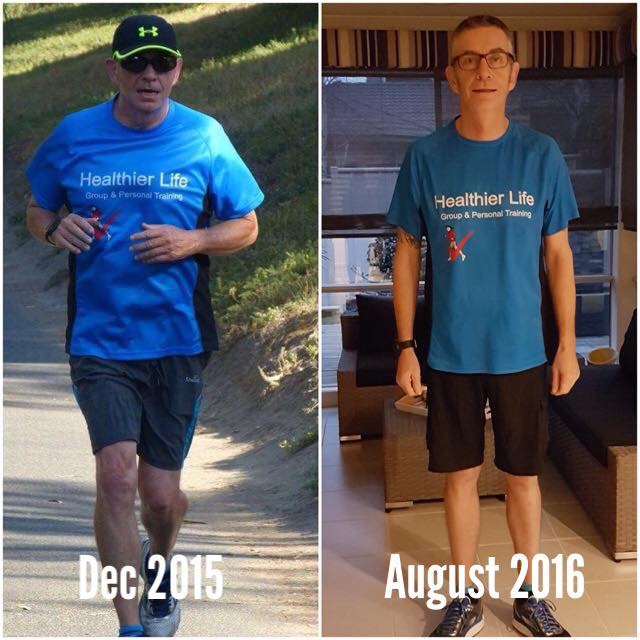 Last year I thought I was doing everything I needed to do to stay fit and lose weight. I was running about 3 times a week and going to the gym on most days off, lost a few kilos but never the amount I wanted or needed to.
In November Lisa Walter and I decided to see about a personal trainer, we knew a couple of people who were training with Brent, so we gave him a call.
We started training on th…e 30th November 2015, and it was hard. Brent asked me to write down my goals and any limitations I have, I knew that I had some limitations, couldn't run far or fast. We had also heard him talk about the Healthier Life MJ program and told him we were interested in trying it, and so we started on the program.
What I was surprised about was Brent didn't ask about my limitations or exclude me from any activities, I'm glad he didn't, now I know that they were only in my head.
Now, seven months later; I have lost over 10 kilograms in weight, I have improved my running time by over a minute and a half per kilometre, I feel fitter and I know I am faster, I also look forward to Wednesday's when we have training.
Brent is not only an exceptional trainer I am glad to call him a friend.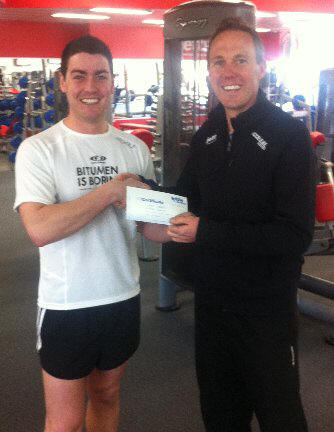 Luke O'Brien says……
"Bucket" of Dry White Wine, Smiths Crinkle Cut Plain Chips and Bunning's Sausages.
3 things I love and don't EVER want to give up!
But at only 26, I'm not willing to give up my waistline either, which sadly I had started too. (I looked like an air bag had gone off in my face)
So at over 82kgs, enter Brent…….
When I started PT sessions, I was actually quite scared and self-conscious, but thanks to Brent's support and encouragement there was no need to be.
I gave Brent the brief of "Shed fat (weight loss)" (doesn't everyone) and "To stop wandering around the gym clueless" (considering I'd had a membership for over 12 months and had actually only gone 4 times in total).
Brent was and is KICK ARSE!!!
He kicks my Smiths Crinkle Cut Plain Chips, Bunning's Sausages and "Bucket" of Dry White Wine lovin' arse at least once a week with a personally tailored fitness/lifestyle change programme (+ "Homework" – gym sessions on my own) that in less than 6 months, has seen me achieve far more than just "weight loss".
Currently weighing in at under 69kgs, I am fitter, healthier and happier than I have ever been!!!
Brent is motivating, fun and worth every cent!!!
I highly recommend joining Brent and changing your life-without having to take away the things you truly love. – Luke O'Brien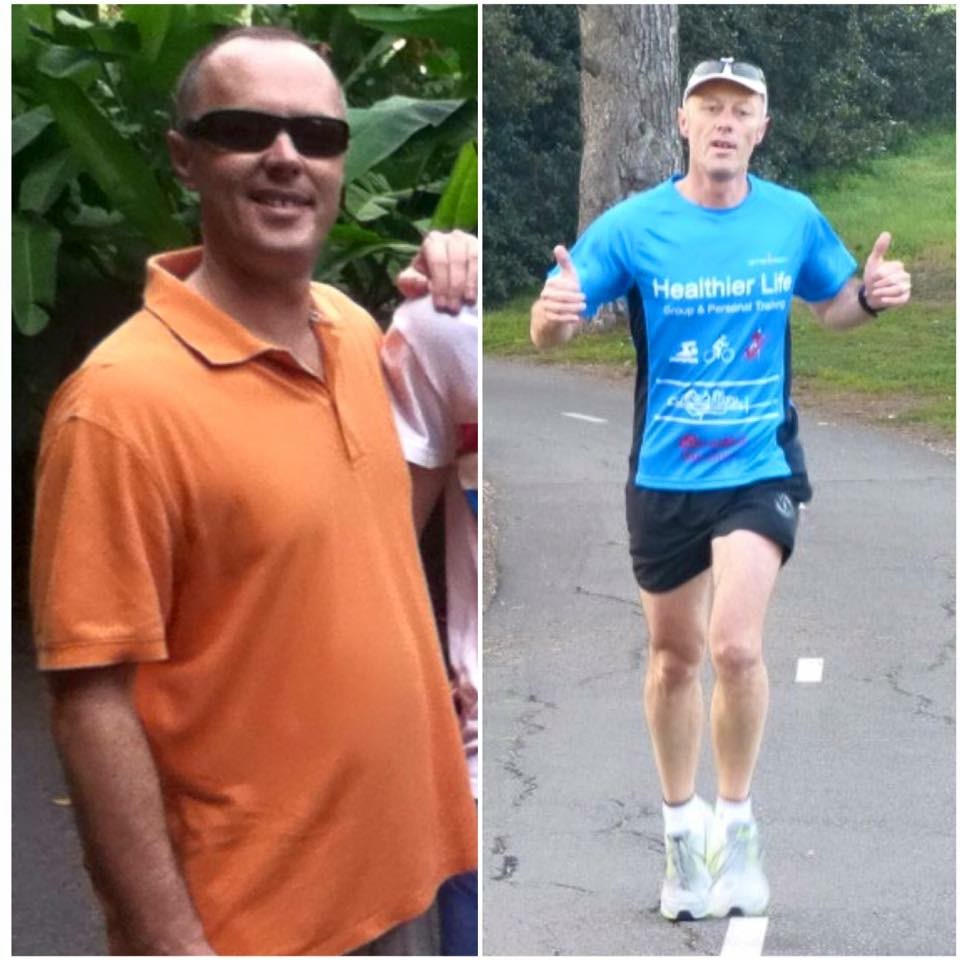 I first went to Brent's classes about 3 years ago. A close mate of mine was going and I had seen the improvement in his health and wellbeing he had achieved. I had always tried to be healthy and active but family and work commitments were making this difficult, I needed a targeted approach that was built around quality rather than quantity.
I was about to go travelling in Nepal and I wanted to …ensure I could handle the walking involved. At first the sessions were a bit difficult and I felt maybe I couldn't keep up but Brent's approach seems to be: to do what you can and don't put any extra pressure on yourself. Brent was able to help me shed a couple of kilos, strengthen my legs but more importantly improve my mental strength to take on what I hadn't done for a long time. To understand that if you give just a little effort you can get a lot back.
Even though I have been involved with Brent's group sessions, he will give you personal advice and support on individual goals you may have or events you may wish to be involved in. This may range from running an upcoming fun run or to lose a few unwanted kilos. In the time I have known Brent I have reduced my weight from about 94kg to 72kg, this was through a special programme Brent runs to promote weight loss. I also joined in a variety of events with runs of up to half marathon distance or Triathlons. Most would not have of seemed at all possible 3 years ago but with Brent's and members of Healthier Life's group support I have been able to achieve, far more than I thought possible. No wonder and look forward to what is next.
With shedding over 20kgs and increased fitness I am able to achieve so much more in a week. The extra energy enables me to keep a great work life balance and still fit it in the training requirements. An added bonus is the people I have met on the journey as we all improved our fitness together. Even though you are reaching your individual achievements, there is a sense of a team environment as we met each time to improve our fitness or to be involved in an event.
With Healthier Life it doesn't matter what age or fitness level you are, all get involved. I encourage anyone to come along. The combination of indoor and outdoor exercise programs provided, makes it more enjoyable. If you lead a busy lifestyle, the options of different times through the week to join one of his classes is a bonus. Just pick what suits and book in. Hoping I see you at one of the sessions!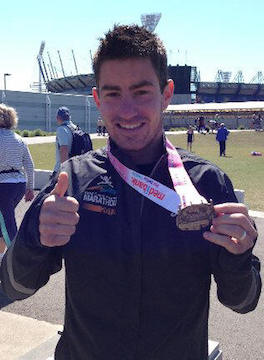 I absolutely love my Healthier Life training sessions! Not only has Brent been a great Personal Trainer in the 2 years I've been training with him, but he is also my running coach and my mentor. The service doesn't finish at the end of the session. He has helped me develop training programs to help me achieve my goals, given me great advice and even helped me warm up before a fun run.
The great thing about Brent's training sessions is that there is something for everyone. The participants range from young to old, beginner to advanced. Everyone gets something out of it and we all love it!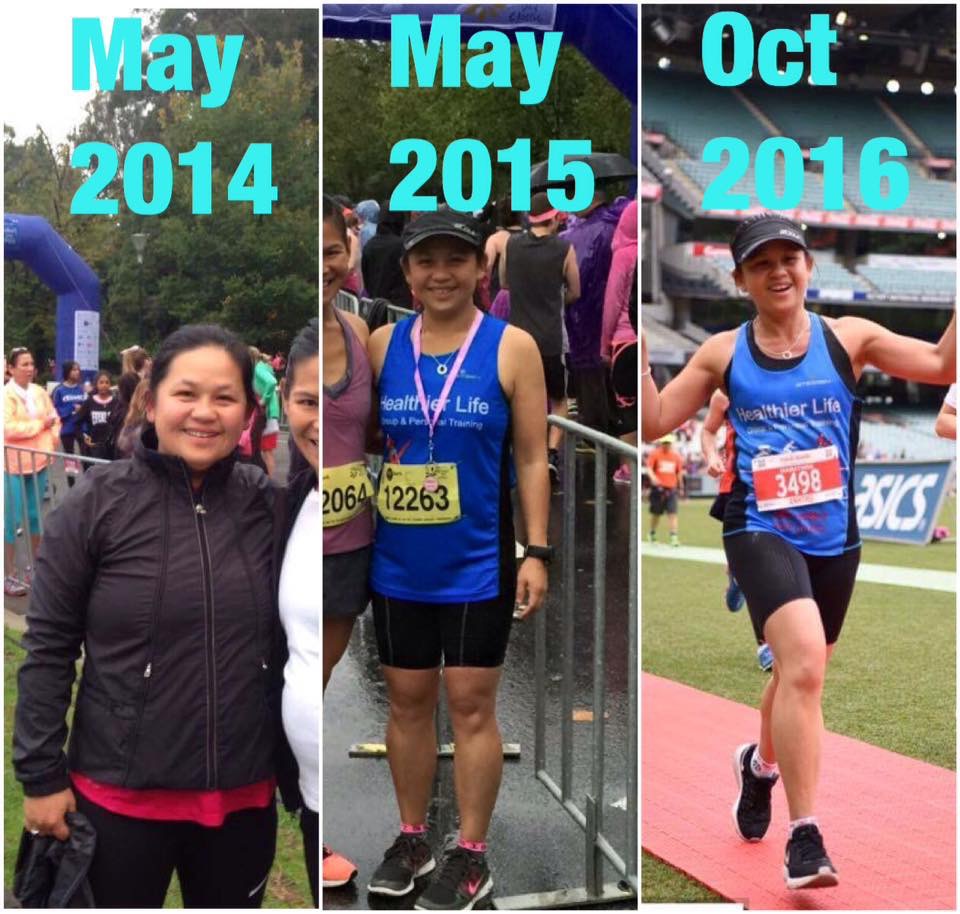 My journey to better health, fitness and wellness started 2 years ago. Every year my friend Hels and I would run the Mother's Day classic. While it was fun to participate in the event, it was not fun struggling through the 8km course. Hels had a bit of light bulb moment and said why don't you just train for an event and so that started my love for fitness
…
. I was referred to Healthier Life and Brent by a friend. The simple $10 per session was perfect for me.

I can still remember how daunting it was that first session running around Newtown hills with very fit looking people of all ages and fitness levels. I was at the back of the pack but I made it through that first session. All I wanted to do was be able to run 10km. Under Brent's guidance for fitness, nutrition and weight loss I have achieved much more than that.I attempted the Melbourne Marathon last year. This was the toughest running goal – physically and mentally built up over weeks of training. After saying never again, I signed up for Great Ocean Road Marathon in May 2016 and started Brent's MJ program 8 months ago to lose those last few kgs so I could be as light as possible for the marathon, the MJ program suits me. I like the weekly accountability, flexibility and it is a sustainable program – gradual weight loss through balanced meals and not through dieting and deprivation. I lost 5kg GOR and not only did I achieve a marathon PB but it was great to finish strong.
Always pushing his clients, Brent believed that I could run a sub 4hr marathon so I signed up for Melbourne Marathon again this year. W
hen I injured my calf early in the program, Brent was the first to contact me and put in a plan in place so I could continue training including strengthening sessions. Needless to say without Brent's encouragement and continual training I would not have been able to maintain my fitness level and be able to get to the start line. I finally hit my goal weight the week before Melbourne marathon 2016 and improved 21mins from last years time to achieve a 3:55 marathon. In 2 years Brent has taken me from 10km to 3 marathons!
Brent's philosophy is simple, eat well and train hard consistently. I have followed this and have been rewarded with weight loss, increased fitness and better health. I used to get bad hay fever and that has disappeared completely. I appreciate Brent's' honesty – sometimes it's not what you want to hear but he does have your best interests at heart. He genuinely loves doing what he does and is passionate about his clients, results and how to get you there. But what I find inspiring is that he is also fit himself and focused on his own fitness achievements. Through Healthier Life I have made lifelong friendships and learnt a lot about pushing myself beyond the impossible. The Healthier Life team is made up so many driven, positive, motivating and supportive people. Watching everyone achieve different goals is a really nice feeling and being around these types of people makes you feel you can also achieve anything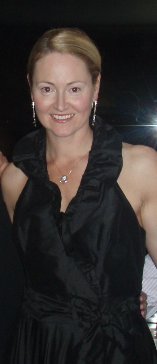 "Brent has been my trainer for about 4 years (or more!). During this time I've had 2 children and he's helped me get back into shape after each bub. After having my second baby, I was determined to look fabulous for my 40th birthday. What began as light sessions gradually built up in intensity as my fitness returned. Brent's program provided the cardio & strength training I needed and the variety always kept sessions interesting. He also monitored my nutrition, checking my food diary regularly. Healthy eating was key to me burning fat & toning up – it's not just about exercise.
My goal was fulfilled. I toned up, I lost about 13 kilos in just over 4 months, achieved my goal weight & looked fantastic for my 40th! Now it's about maintaining the fitness so it's good to know Brent is there to help.
If you want to be fit but need the motivation to exercise, having a trainer like Brent is a great way to start. He designs programs for your needs, understands what you want to achieve and challenges you in the sessions. The end result makes it all worthwhile. I highly recommend Brent to anyone with fitness goals to achieve." – Lou Edebone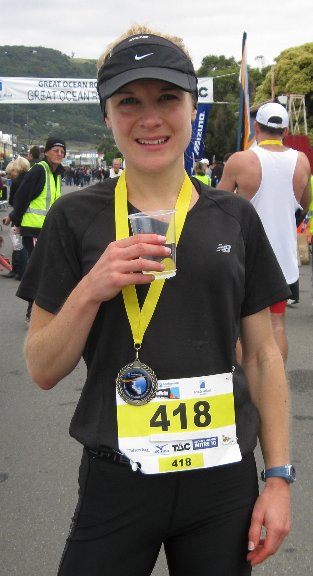 "I met Brent about 4 years ago when he was working at the old Recreation. I was there to do a routine work out and Brent asked me to participate in his class. I reluctantly agreed as I am not one for classes. I enjoyed his class so much, from that Friday onwards I went religiously. There is something about the way Brent works, that motivates you to strive for your best. It was always a disappointment going to the classes when Brent was not instructing and then he left to work at Jetts! I was devastated!
Since then I have been attending Brent's group training for two years now. In this time have achieved so much, physically and mentally. Last year I had the goal of completing my first marathon by the time I was 30. I am now 31 and I have now competed in two marathons! Without Brent's direction and encouragement, this would never have been possible. He has the ability to instil such self belief in you that you feel you can achieve anything.
In participating in Brent's classes I have met some great people and they are all so encouraging and supportive. I recommend anybody to have a crack, even on a chilly winter's morning!" – Alex Burridge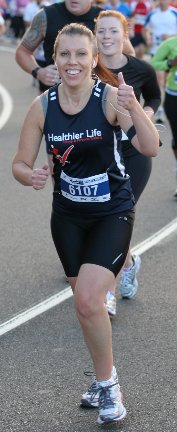 "I have been a part of Healthier Life Group Training for a number of years now after I was recommended to come along by a friend. Since joining Healthier Life Group Training I have found it to be a great way to keep fit, keep motivated and to be part of a group with common goals. For me the twice weekly sessions I do with the group to be exactly what I need with a 30 minute run or walk (depending on your capabilities) and 30 minutes of working with weights. The knowledge, encouragement and co-ordination Brent brings to the group makes sure that everyone gets a workout to their level, yet still keeping us altogether as a group. Since I have been with Healthier Life group training I have competed in many fun runs, something I had never previously considered but setting goals with Brent has changed this and I now regularly compete in them. This year's goal setting was very different for me as I set a goal with Brent to complete a half marathon. This was quite a step up from my usual 5-10 km runs but I had Brent give me a complete training program along with any advice I required to achieve this goal. In the lead up to the race I shed 6 kg of weight and built my distance up according to the program I was given. In May this year I ran my first ever half marathon at Apollo Bay as part of the Great Ocean Road marathon Race. I not only completed the half marathon course but came in 20 mins faster than I expected. I highly recommend Healthier Life Group training as part of keeping fit, achieving goals and seeing the results. Brent's dedication, along with his innate ability to push you that extra bit further and genuine interest in your achievements is something that goes above and beyond." – Wendy Kerby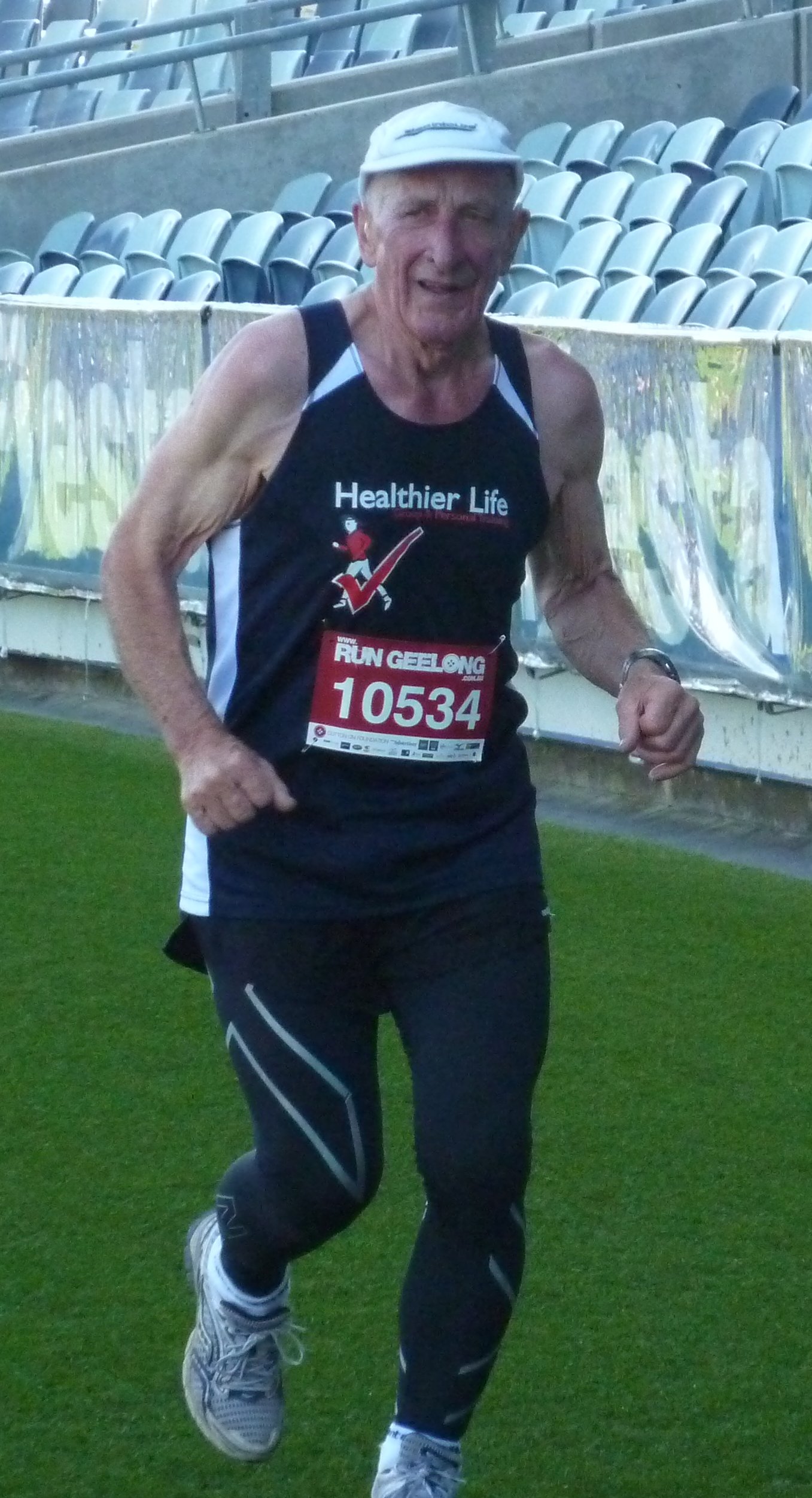 "I have been a member of Brent's Healthier Life Training Group for almost 3 years. Prior to joining Brent I had been involved in various fitness programs, managed to lose some flab and become reasonably fit.
I had done the odd fun run but was able, due to Brent's training, attitude and advice to push myself a little bit further. Hence thanks to his encouragement I have just completed my 6th Half Marathon at aged 79.
I can't overemphasize the affect Brent's positive attitude, carefully programmed training and the friendly environment of his sessions have had on my ability to achieve my goals. Brent himself is always up for a challenge. an attitude he is able to transfer to the members of his team.
So, if you want to walk, run or just have fun why not get a "Healthier Life". – Jack Elliott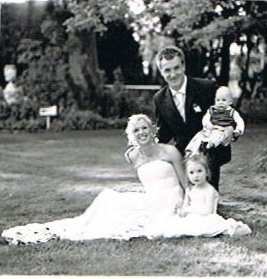 "I trained with Brent for 4 years, during that time he helped me achieve many different goals as simple as doing 1 push up to doing triathlons or eating the right foods. I am now able a lot of push ups and have competed in many triathlons. Brent's commitment to helping me achieve these goals and many others was second to none. He has an exceptional ability to get the best out of people, if it wasn't for his commitment to see things through I would have no doubt I would still be over weight, unfit and I would have a lot less self belief.
My self belief was at an all time high when he trained me during my pregnancy and after the birth of my son got me into a size 10 wedding dress. Brent also inspired me so much that I became a personal trainer and with a lot of my knowledge has come from training with him." – Tania Milburn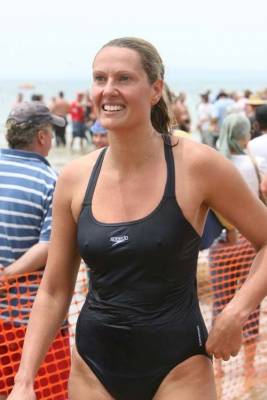 "I have always loved the gym and it has always been a part of my life. I never entertained the idea of a personal trainer as I didn't have a problem with motivation. However, when a girlfriend suggested we attempt a triathlon, we decided to ask for Brent's help. Now 10 months later, I have lost 7kg (an unexpected but welcome side effect of correct training), hold a gold medal from the Masters Games in triathlon and have had a top ten finish in one of the summer ocean swims. I have achieved more than I ever thought possible and it is all thanks to Brent Durran." – Jane Miller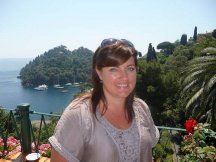 "Approaching 40 and overweight I knew it was time to make a change. I needed to be pushed out of my comfort zone and encouraged to make big changes to my diet and lifestyle. I started training with Brent originally setting small goals to make these much needed changes. With Brent's positive attitude and motivation I have realized strengths and will power I never knew I had. Not only has my overall physical fitness changed but my attitude to health fitness and nutrition, and as a result I have lost 10kgs so far. Brent has instilled a belief in me and now instead of dreaming of the healthy strong body I desired I am making it happen! Brent is dedicated to his clients and takes a personal interest in helping you achieve your goals." – Carolyne Booth
"Before group sessions and personal training with Brent, I couldn't run around the block. I have now completed several triathlons, fun runs and a half marathon.
Training with Brent has enabled me to greatly improve my fitness, and achieve results I never would have thought possible. I have lost weight and feel healthy, confident and positive about life in general. I competed in the events with the aim of just completing them, but was very pleasantly surprised to achieve top 3 finishes in many of them. Brent's advice on training, competing and nutrition has been very beneficial.
Brent's personal training sessions are tailored to meet the individual needs and capabilities of his clients. Brent has a firm and friendly approach that makes sessions challenging but achievable, as well as enjoyable. I highly recommend him to anyone wanting to achieve any fitness goal." – Michelle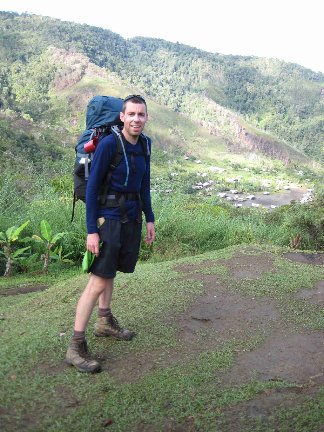 "Brent Durran is an amazing personal trainer. Through Healthier Life Group and Personal Training, I have achieved so many things that I never thought possible!
To this day, I still remember my first training session with Brent. My running career up to that point had been sporadic, and I was struggling to run further than 4-5km. My upper body strength was almost non-existent – I think I managed only 3 push-ups that first session!
With Brent's guidance and unrelenting support, I have now completed numerous half marathons, 3 full marathons, hiked the Kokoda Trail, and successfully completed a full Ironman distance triathlon (3.8km swim / 180km ride / 42km run). As part of this Brent also helped me learn to swim!
I now regularly attend and thoroughly enjoy Healthier Life Group Training sessions, participate in a variety of ocean swimming, fun run and triathlon events, and have generally transformed my life to make personal fitness and event participation a way of life.
Brent takes pride in what he does, is super supportive, has a wealth of knowledge around training techniques, race strategies, recovery and nutrition, and at the end of it all he makes you feel like you achieved your goals on your own!
But by far the greatest reward in having Brent and Healthier Life as part of my life is my improved health, increased self confidence, and personal satisfaction that anything is possible if you work hard.
Thank you Brent!" – Dirk

"I've been attending Healthier Life for nearly two years. I really like Brent's training style, he is great at motivating you and making you push harder without the yelling. The groups have a great mix of ages and fitness levels and he caters to all our needs really well. The combination of running and weights means that you get a cardio workout and strength and toning too. I like that we do running, rather than other circuit exercises which need equipment, as when I go away, or my work schedule means I can't make one the training times, I can run by myself and maintain and measure my fitness. The training times are convenient and only having to give 24 hours notice before a training sessions means that I can be flexible and pick and choose the training sessions that suit me each week. I have tried other group training types, and this is definitely the one for me." – Kate

"Brent's hard but fair and adapts to your needs to get the results that are required. We had some success in our first 2 seasons of Surfboat Rowing but needed something more to be more competitive at a national level. My coach asked Brent to write us a weights program to build strength and maintain fitness with specific applications to rowing. In that very next season we won a bronze medal at the World Championships and made it to the final 8 crews at the Australian Championships. Since then I have trained with some of the best coaches in Australia for elite/high profile athletes and Brent's applications is equal their core conditioning and specificity in training, relative to the sport. Since then I have achieved the 'holy grail' of surfboat rowing, winning a medal at the Australian Titles in the women's open division. Part of this, I believe comes from the foundations of strength, weights and core conditioning Brent prepared me with and I thank him for this."
Lara Jeffery
Gold – World Championships
Bronze – World Championships
Victorian Team Rep 2004 – 2009
Silver (Team, Surfboat Relay) – Australian Titles
Silver – Australian Titles, 2009
Participant Ocean Thunder Pro Surfboat Series – 2006 – 2008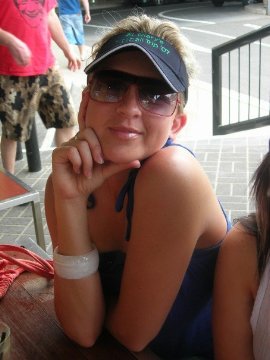 Healthier Life training keeps me motivated, as the sessions are always varied and challenging, at the same time enjoyable. Brent exhibits a positive rapport with clients, catering to the fitness levels of all individuals. Since training with Brent I have gained a higher fitness level and muscle tone, along with achieving my own specific goals.
Marnie