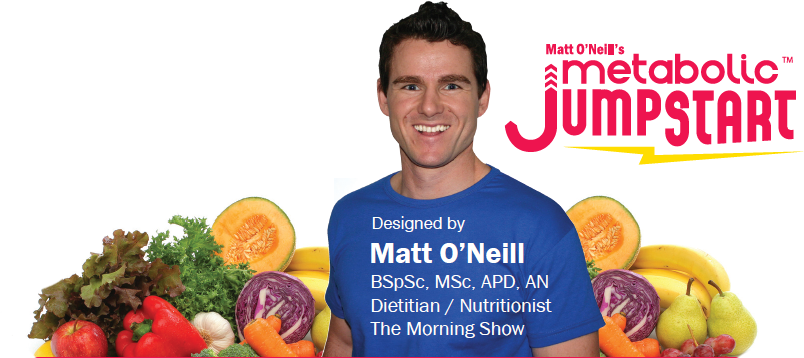 Matt O'Neill's Metabolic Jumpstart
One of the new and MOST EXCITING things to come HEALTHIER LIFE GROUP AND PERSONAL TRAINING this is Matt O'Neill's Metabolic Jumpstart Nutrition Plan!!!!
I started this eating plan last week for myself to see if it really works and I can tell you with 100% faith it does work, I have lost 4.1kgs in less than three weeks!!!! It's all 100% food with no shakes or other fad things like that, which is what drew me to it.
What is it?
Metabolic Jumpstart works because (unlike so many diets out there) Matt carefully matches your nutrition plan to your individual metabolism and desired results.
Individually matched for YOU
You'll start with a Personal Profile which Matt uses to build your nutrient-rich diet plan. Your plan is matched based on your weight, activity, desired results, protein or carbohydrate match, and much more. And it's all online.
Nutrient-rich and optimised
Your Metabolic Jumpstart plan is designed with optimum amounts of nutrient-rich foods for your metabolism. Matt works it all out for you, so you nourish every cell in your body and optimise your metabolism. Other diets won't optimise nutrients from all food groups that is now essential for successfull weight management.
Flexible, with no calorie counting
You'll use Matt's easy "Mix & Match" system to eat the foods you like on your nutrient-rich plan. You get clear personal targets for food groups to keep you on track for results and Matt will show you exactly how much exercise you need to do to burn off indulgences.
Program Cost
It will cost you $80 for a 4 week designed nutrition plan from Dietitian Matt O'Neill (Channel 7 breakfast show) – personally matched by Matt O'Neill to optimise your metabolism.
Program Options
You choose whether to lose weight fast, slow, maintain or even gain weight(muscle). Your plan will match your desired goal.
With your correct calorie level, correct balance of protein and carbohydrates, and correct nutrient intake, your metabolism resets and results appear automatically.
In just 4-weeks, you'll re-program your eating habits with this surprisingly simple approach to food.
You will also receive:
•Over 350 nutrient-rich recipes
•Over 100 tip sheets with solutions for every challenge
•20 mind-shifting audio seminars by Matt O'Neill
•Motivation Planner, with audio guide
•Expert interviews on key topics, like hormones and metabolism
•Dozens of downloadable tools, charts, trackers and posters
•Matt O'Neill's ongoing support, advice and motivation
* Our private Healthier Life Facebook page
Trust me I am also amazed how much I have learnt already from this and how well it works!
So if you are READY to achieve WEIGHTLOSS results the next step for you complete the form below and I will email you the details to get started TODAY!!